Summary
SPACs trading for about $10 are still worthwhile speculations if money, management and target are solid.
Several SPACs I've suggested are still trading near $10 and can be invested in now to add some potential upside with low risk.
There's more out there, but these are the ones I'd look at first.
In my first piece on SPACs, I described 2 Ways To Make Money On The SPAC Hypecycle. Read that as a foundation piece for what underlies the reasons to consider trading and investing in the following SPACs. 
Pre-deal SPAC Unit Investing Basics
The simple idea with investing in SPAC units near IPO pricing is that the cash in the trust backs the shares at about $10/share. Thus, when a SPAC is trading at about $10 per share, your risk is low compared to most stocks in the stock markets.
Your upside is uncapped in these cases, just like with any stock. So, with limited downside of the cash backstop, there is asymmetry of risk and reward in your favor in these cases. That's rare. That does not mean anything is automatic though.
You will need to manage these positions as deals are announced. If the deal is not something you like, then you will want to sell your shares or redeem in some cases depending on prices at the time.
If you redeem, you get to keep the warrants attached to units. Thus, remember, you are looking to buy the units before deals are announced, not the stock.
You buy SPAC stocks after a deal is announced (de-SPAC) if you like the company. That's discussed in the other SPAC article today.
Here are the SPACs I think are worth looking at now. Again, not an exhaustive list, just those I am familiar with and rank highly for potential.
I am listing the warrant ratio because the more warrants, the more potential dilution in the future. We want 1/3 or less as a ratio, that is, 3 shares gets one warrant.
10 SPAC Units Near $10 IPO Price
| | | | | |
| --- | --- | --- | --- | --- |
| SPAC | Trust $ | People | Target | Warrant |
| ArcLight Clean Transition Corp. II (ACTD) | $311m | Daniel Revers (Founder, ArcLight Capital Partners), Dr. Ja-Chin Audrey Lee (Former VP, Energy Services, Sunrun; Co-Chair, Clean Energy for Biden), Arno Harris (Former Founder/CEO, Recurrent Energy; Director, Pacific Gas & Electric) | Renewable Energy, Energy Transition, Sustainability | 1/5 |
| Ares Acquisition Corp (AAC) | $1b | David Kaplan (Co-Founder/Director, Ares Management), Kathryn Marinello (CEO, PODS; Fmr CEO, Hertz; Director, AB Volvo; Fmr Director, GM) | sustainability, mobility, alt energy | 1/5 |
| Apollo Strategic Growth Capital (APSG) | $816m | Sanjay Patel (Chairman Int'l & SP of PE, Apollo), Scott Kleinman (Co-President, Apollo Global Mgmt), Jennifer Fleiss (Co-founder,Rent the Runway; Fmr CEO, Jetblack) Mitch Garber (Fmr CEO, Optimal Payments; Director, Rackspace & Shutterfly) | tech, fintech | 1/3 |
| Cohn Robbins Holdings Corp. (CRHC) | $828m | Gary Cohn (Former COO, Goldman Sachs; Former Director of the National Economic Council), Clifton Robbins | fintech, financial | 1/3 |
| Fortress Capital Acquisition Corp. (FCAX) | $400m | Michael Nierenberg (Chairman/CEO, New Residential Investment Corp: NRZ; Managing Director, Fortress's Private Equity Group), Elizabeth Fascitelli (Fmr Partner/Managing Director, Goldman Sachs) | fintech, financial | 1/5 |
| Khosla Ventures Acquisition Co. III (KVSC) | $500m | Vinod Khosla (Founder, Khosla Ventures), Sara Clemens (COO, Twitch; Fmr COO, Pandora Media) | Tech (highly differentitated proprietary technology) | 0 |
| Liberty Media Acquisition Corporation (LMACA) | $575m | Greg Maffei (CEO, Liberty Media; Chairman of Live Nation, TripAdvisor; Fmr CFO Microsoft) | entertainment, music, tech-media-telecom [TMT] | 1/5 |
| MSD Acquisition Corp. (MSDA) | $575m | Michael Dell (Founder/CEO, Dell), Gregg Lemkau (CEO/Partner, MSD Partners; Fmr Co-head, Investment Banking Division of Goldman Sachs), Jim Breyer (Founder/CEO, Breyer Capital; Fmr Partner, Accel Partners; Director, Blackstone; Fmr Director, Facebook, 21st Century Fox, Walmart, Dell, & Etsy), Edith Cooper (Director, Etsy & Slack), Barry McCarthy (Director/Former CFO, Spotify; Former CFO, Netflix) | Tech, Media | 1/5 |
| Soaring Eagle Acquisition (SRNG) | $1.75b | Harry Sloan (Former CEO of MGM) | In talks (unconfirmed) with Ginkgo Bioworks | 1/5 |
| Spartan Acquisition Corp. III (SPAQ) | $552m | Apollo Corp | Energy Transition, Sustainability | 1/4 |
Avoid the narratives on SPACs. The most important thing to remember is that SPACs become a company at some point.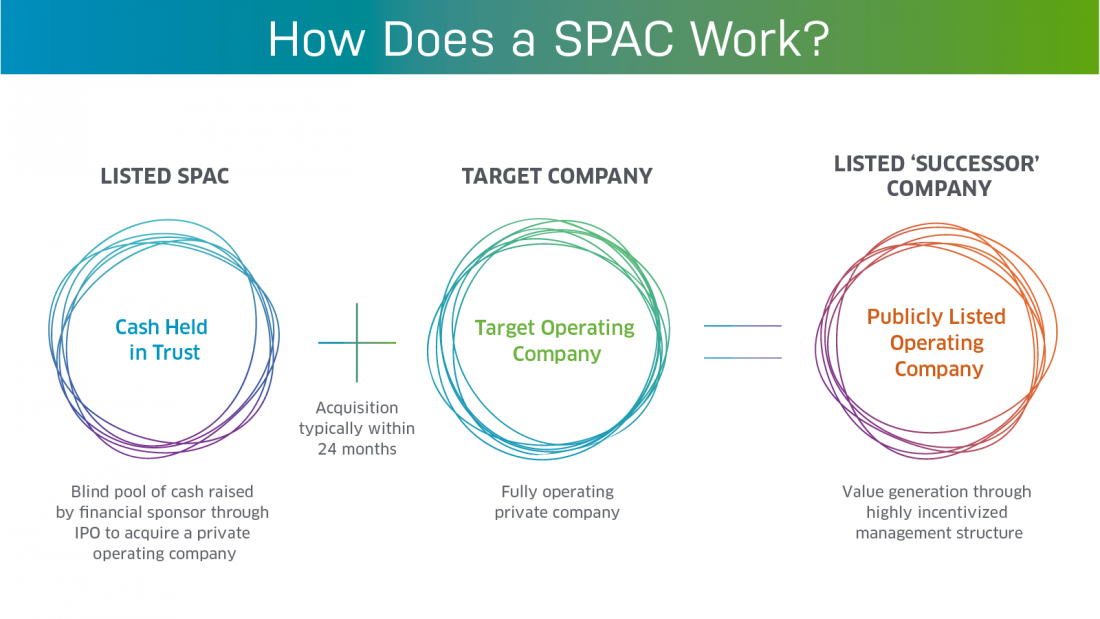 You need to navigate the deal announcement and be able to evaluate the potential company. In most cases, you want to sell the hype.
From prices around $10, if there is no hype pop, redeeming the shares and keeping the warrants becomes more likely.
I am adding Arclight, Khosla and MSD to appropriate accounts. I already own all the others.
Disclosure: I am/we are long FCAXU, CRHCU, APSGU, AAC.u, actd, kvsc, lmacu, srngu, msdau.