Summary
I have been waiting for the Fed and Treasury dual tapers to publish this.
If we get a stock market correction, I expect it to be a classic 2 or 3 dip process depending on how tight money is allowed to get and Apes.
We want to continue to invest on the side of the big secular growth trends whenever we are given a chance to buy cheaper than this month.
You should now be near the conservative edge of your tactical asset allocation range and should be looking to move back to the strategic norm when prices permit.
Your quarterly guide to ETF investing.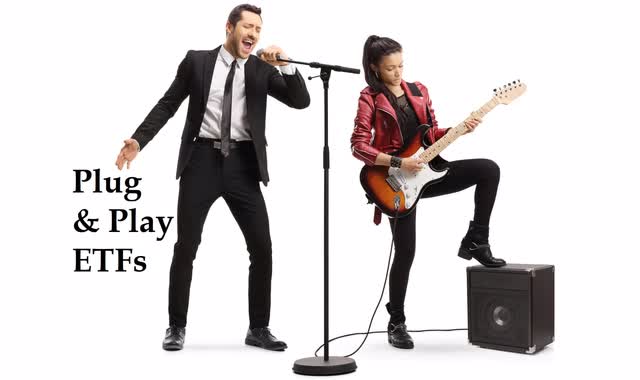 Read Using Plug & Play ETFs to minimize your risk and maximize your profit potential. Use this guide for your ETF investing. If you have questions on ETF investing ask below in the comments.
Current Cash Levels
Cash is your best hedge. Buying puts or using margin to hedge is very difficult. For short periods of time, cash can be a great asset allocation tool to avoid short-term risk.
| | | | |
| --- | --- | --- | --- |
| Investor Category | Defensive | Cautiously Optimistic | Pedal To The Metal |
| Current Cash % (Tactical) | 60-40 | 40-20 | 20-10 |
| Long-term Cash % (Strategic) | 12-4 | 4-2 | 2-1 |
I expect 2021 to be a choppy year, thus the high tactical cash levels versus long-term strategic levels. Here are my broad thoughts:
Global Trends ETF
80/20: Global Trends ETF strategic asset allocation is 80% equities and 20% alternative linked per our barbell. Here are the current tactical allocations to try to get to based on pricing and your cash on hand allocation.
Global Trends ETF Quick Thoughts
QQQ
There are several substitutes for QQQ that you can use instead of or along side. We've talked about the Black Rock Science & Technology Trust (BST). It's trailed lately because it raised money and had stocks called away with the covered call overlay. I think it might prove to be a good defensive way of using QQQ in a correction and especially in a choppy market.
Another QQQ substitute is the Invesco ESG NASDAQ 100 ETF (QQMG) which was pointed out by a member in the comments of a Stocks Of The Week article. It is essentially QQQ minus six dirty stocks (Carlin?) and slightly different weightings.
Weirdly, Tesla (TSLA) is a relatively small holding in this sustainability focused fund. But, I think that's good now at Tesla's current valuation. For those not convinced Tesla goes up another megabrazillion percent, having less might be a good thing. It also has lower exposure to Meta Facebook which I like as I'm allergic to Zuck. I think QQMG is a good substitute for QQQ. I am likely to use it in place of QQQ.
There's others, such as at Vanguard and Fidelity that are similar, but not the same. By taking a look at the holdings, you can decide which you prefer. Taking QQQ can't be a bad decision really, but it can be tweaked to suit you.
Clean Energy
Just the biggest trend in the world the next two decades.
Midcap Madness Core
Here I'm splitting duty between Cathy Wood at ARK Invest with their Innovation fund (ARKK) which is about 50 of their best multicap ideas, and Invesco Next Gen 100 (QQQJ) which is an index of the next 100 biggest stocks on the Nasdaq. Something to think about, some of these stocks will get into QQQ soon and SPY soon. These are the better marge cap growers (mid + large = marge).
If one were so inclined, you could reduce QQQ to 15% and increase these both to 15% to overweight smaller, but not small, higher growth companies.
Berkshire Hathaway
Buffett, a little bit of Munger and the new guys. It's the hot new old band.
Seriously, they do buybacks the right way and are on a mountain of cash. No matter what, it's almost impossible for them to lose. But, they're huge, so, tough to move the needle much past the S&P 500. My proxy for the S&P but better. And, if I need to sell it to raise money to buy something less boring and safe for something more exciting and dangerous, I can.
Semi's
Almost too this one off, but it's semiconductors. Would need a doozey of a correction to buy though. Typically peaks like this come down pretty hard at some point. But, the rallies come back quickly too. Just be ready.
REITs
Our top 3 REITS in our REIT basket right now are:
I am reconsidering the cell tower REITs on valuation. I wouldn't sell, but I wouldn't dive in right now either with the Fed tightening. Keep on the lookout for an update on REITs next week.
Gold & Crypto
I have removed Gold for Global Trends investors as most folks with more aggressive accounts probably already own some crypto. If you don't own cryto, visit Coinbase here and you can actually get paid in crypto to take the time to learn about crypto. Weird right. Tell the universities to pay its students!
Anyway, I keep my Ethereum which I'm building to 32 coins so that I can become a validator and make money on the future of digital contracts, at Coinbase.
I might come back to GDX, but for now, with the Fed tightening, I think it has to be a trade from mid to low $20 something. GDX is risky again. I'm surprised it didn't rally higher again sooner, but I think it's on break until the Fed threatens to spray money again.
Lying In The Weeds
I really like Tim Seymour who helps run the Amplify Seymour Cannabis ETF (CNBS) and I like the holdings. The thing investors are missing, and/or being impatient on, is that a lot of the holdings can really pop as more banking for pot companies is allowed. That is already happening. As laws get looser nationally and become more standard state to state (with a few exceptions) the normalization of these companies is going to drive them up a lot in market cap. You have to buy before that happens.
This fund has drifted down off of it's QE and MEME highs (ha, high, get it) and is ready to smoke again sometime in 2022 or 2023. It's in the buy zone now I set several months ago that folks said would never get lit. Start to scale in on any down days. Space your buys a buck or two apart.
Other whacky tobaccy ETFs are fine too. The Alternative Harvest ETF (MJ) is the biggest and most liquid.
Rare Earth
The metals that will power the future. It's too expensive now, but there's another wave up after the next correction. Patiently wait for it.
Emerging Markets
EMQQ has been flirting with our buy zone for a few months. I'm not feeling it just yet, but it's close. A little more commie correction would help. And, EMs usually don't do well when the dollar rises, so let's just keep an eye on this one. I like it near the bottom fishing price.
Retirement Trends ETF
60/20/20: Retirement Trends ETF strategic asset allocation is 60% equities, 20% alternative linked and 20% fixed income per our barbell. Here are the current tactical allocations to try to get to based on pricing and your cash on hand allocation.
| | | | | |
| --- | --- | --- | --- | --- |
| ETF Equities | Symbol | My Buy Zone | % | Dividend Yield |
| BlackRock Science & Technology Trust | (BST) | 38-43 | 25 | 5.4% |
| WisdomTree Int'l Hedged Quality Dividend | (IHDG) | 34-39 | 15 | 3.1% |
| Invesco Wilderhill Clean Energy | (PBW) | 66-80 | 10 | 2.6% |
| ARK Innovation | (ARKK) | 82-94 | 10 | 1.6% |
| Invesco Next Gen 100 | (QQQJ) | 28-30 | 10 | .2% |
| Berkshire Hathaway | (BRK.B) | $233-186 | 5 | 0 |
| Build Your Own REIT basket. | — | — | 10 | 4-6% |
| Emerging Markets Internet & Ecommerce | (EMQQ) | 41-50 | 5 | .2% |
| Pick from 4 | — | — | 10 | 2-4% |
Retirement Trends ETF Quick Thoughts
QQQ or BST?
See the discussion up above. You can really choose either or split the difference or use other similar funds. Regardless of what you do, try to stay close to the QQQ allocation with any tweaks you think make sense for you.
To reiterate, BST is a bit safer than QQQ and throws off way more income. It'll trail in market spikes, but lead by a shade when income is included almost any other time.
And, I don't consider BlackRock Science and Tech a sector fund. Why? It's half the economy. That's not a sector. It's half the economy.
Bye To Sector Funds
I got rid of the SPDR Select Communications because it's just to much Meta Facebook (FB) at 20%. Most telecom companies are high capital intensity until 5G and fiber is built out. Then, for a while, there will a period of reaping. But then, they'll have to build 6G and probably compete with more satellite services. So, other than liking AT&T (T) because of their Discovery (DISCA) deal, Viacom (VIAC) and Comcast (CMCSA) for future entertainment deals and AlphaGooglebet (GOOG) cuz it's Google, I don't want that fund. If you want dividends, just scale into T, VIAC and CMCSA, they're all in the buy zone now.
I also got rid of the utility fund into higher long-term rates even if the Fed doesn't raise soon. The capital intensity is huge and the transition to clean energy is going to put pressure on them for a while. If you find a utility you like, that's fine, but the group is going to be challenged.
I am also saying goodbye to the gold fund for the reasons I noted above minus the crypto angle. Gold just seems unloved but not unloved enough to be cheap enough to buy in the face of a tightening Fed. I don't see the dollar rising and gold rising too this time. What might drive gold up is crypto regulation and I think we're at least a year away on that. Look for a better entry in the lower to middle $20s.
Also, I'm not so sure retirees want sector funds in general. Required more management and adds potential risks. From here on out, Retirement Trends will be more diversified.
A Bond Fund?
What am I putting in the place of the sector funds? In addition to topping up some other equity allocations, I am adding a bond mutual fund that I was able to dig up using my ancient and barely used Morningstar account.
There are levered bond funds out there, but with long rates rising, those are very risk. Stick with more vanilla. High grade corporates, take the dividend like coupon and a higher place in the food chain.
In looking for bond funds, I screened for Morningstar Risk Rank of average or below. I then looked at the management consistency and relative returns against peers. Finally, I ranked by average duration on their bond portfolios now, favoring shorter duration while rates face upward pressure. Several of these I used in the past.
All of these funds made 2-5% per year on average the past 5 years, which isn't bad in this interest rate environment. I'm willing to own a little bit of short-term bond exposure here as a way to limit volatility. It might not work, so sticking with mostly stocks and extra cash makes sense too. But, if you're looking for a few extra points, I get it. Have at it, just don't have much.
All that said, I am adding a 10% position in the… take your pick or mix & match. I am putting the Morningstar commentary and then a bit of my own:
Metropolitan West Strategic Income"Compared with other funds in the Nontraditional Bond Morningstar Category, this fund, historically, hews closely to peers' credit and interest-rate sensitivity. Opening the analysis to additional factors, the portfolio, over time, has displayed three biases whether towards or away from certain fixed-income instruments. First, managers have shown a consistent large underweight position on B-rated bonds compared to peers. Additionally, the managers have shown a sector bias away from government bonds. And finally, the fund leans meaningfully toward debt with 15- to 20-year maturities.This strategy's 12-month yield is 7.4%, higher than its average peer's 3.1%. Plus, its 30-day SEC yield (a measure similar to yield-to-maturity) sits at 11.0%. Typically, higher yields come at the cost of higher credit risk. Yet that's not the case here. The portfolio's average surveyed credit quality is on par with peers, both the fund and the average being rated BB."This is a very tactically managed fund. For bonds, skilled management with a wide berth is usually a good thing. It doesn't make them immune from blow-ups, but it's generally paid off over time. This team has been good a long time, but, the fund, due to corporate exposure did take a hit during the Coronavirus Crash. Current duration is only 1.5 years.
JPMorgan Unconstrained Debt "While the approach here courts risk, the team's allocation decisions have been generally effective, often allowing the strategy to participate in the upside for risk assets during benign markets, while proactive risk reduction has helped during periods of turmoil. The strategy is managed dynamically and has a global investment universe including a wide range of fixed-income sectors, such as developed and emerging-markets sovereign and corporate bonds, securitised debt, and currencies. Macro decisions are the dominant driver of the process. The comanagers and sector team heads debate the macro environment at quarterly meetings, which define the team's top-down investment road map. During the weekly sector team meetings, fundamental, quantitative, and technical research inputs are generated for every sector and are used in the weekly portfolio strategy meeting to fine-tune the asset allocation. This is driven by each sector's expected return and conviction level. Sector teams play a vital role in credit selection. The strategy's broad guidelines include a 50% limit to high-yield exposure, a sector in which the strategy has exhibited a heavy bias historically. Duration can range from zero to positive nine years." In general, this team has been very good and frankly, JP has inside information. Might as well use it. Similar to Metropolitan to the point it can be interchanged or used with. Current duration is only 1.6 years.
Payden Global Low DurationMorningstar's style-agnostic evaluation of this fund's process seeks to understand whether the strategy has a performance objective and sensible, clearly defined, repeatable execution. Payden Global Low Duration Fund earns a High Process Pillar rating.Compared with other funds in the World Bond Morningstar Category, this fund consistently is less sensitive to interest-rate changes. Opening the analysis to additional factors, the portfolio, over time, has displayed three biases whether towards or away from certain fixed-income instruments. First, the managers have shown a significant overweight position on corporate debt. Additionally, there's been an underallocation from A rated bonds. And finally, the fund leans meaningfully away from debt with 20- to 30-year maturities.This strategy has a modest 1.2% 12-month yield, lower than its average peer's 1.7%. In addition, it has a 0.6% 30-day SEC yield (a measure similar to yield-to-maturity). Typically, lower yields come at the benefit of lower credit risk. Yet that's not the case here. The portfolio's average surveyed credit quality is on par with peers, both the fund and the average being rated BBB.Another fund I've used before. I like the international diversification. Current duration is 1.8 years.
Fidelity GNMA A thoughtful, risk-conscious approach to finding value within the Ginnie Mae market earns this strategy an Above Average Process Pillar rating. The team steers clear of the nonagency fare that occasionally pops up in competitors' portfolios and keeps duration close to that of the strategy's Bloomberg Barclays GNMA Index benchmark. The managers instead focus their efforts on security selection in the Ginnie Mae market. They scrutinize underlying mortgage pools to identify loans they think will exhibit slower and more stable prepayment activity than suggested by market prices. They also keep a close eye on changes in government policies that affect mortgage refinancing behavior.Supporting this effort is Fidelity's significant investment in mortgage analytics. In addition to the standard Wall Street models, Fidelity has developed and continues to refine internal analytic tools. Here the emphasis is on building and refining a transparent model based on a relatively small number of factors that have an outsize effect on prepayments and valuations.Like many competitors, the managers make sparing use of leverage here. Specifically, the strategy will use mortgage TBAs, a type of forward contract, to gain mortgage exposure and invest the cash underlying the TBAs in floating-rate government securities. As of June 2021, the strategy's market exposure stood at 111% of net assets.The strategy invests the vast majority of its assets in Ginnie Mae MBS. These are largely backed by loans insured by the Federal Housing Administration and the Veterans Administration and carry the full faith and credit of the U.S. government. The managers round out the portfolio with other securities that carry an explicit government guarantee, as well as a dose of Fannie Mae and Freddie Mac mortgage securities, a stake that stood at less than 1% as of June 2021, from 10% a year prior as the team repositioned given attractive Ginnie Mae valuations.Indeed, changes in the portfolio are driven by relative valuation and the team's assessment of prepayment risk. During 2020, for example, the managers adjusted the strategy's allocation to different Ginnie Mae coupons and underlying collateral, drawing on their internal mortgage models to assess prepayment behavior amid the coronavirus pandemic. Finally, they've dabbled in more-exotic fare, such as inverse floaters and interest-only bonds. These securities can be volatile and suffer from bouts of illiquidity, although the market value of these positions is typically modest and stood at 2% of the portfolio as of June 2021.Although the team is careful to pick its spots on the yield curve, it keeps the strategy's duration close to that of its benchmark; as of June 2021, that measure stood at 2.7 years.Breathy they were that time. Here's all I'll add. In a crash, this one does the best. This is the one you use if you just want a cash/money market substitute.
So, go ahead and pick 1 or 2 or 3 or all 4 depending on your risk tolerance. I'm inclined to reinvest that cash from these funds into equities on corrections, but if you need income generation, here's a piece.
International Love
Notice that the WisdomTree Int'l Hedged Quality Dividend and Emerging Markets Internet & Ecommerce are 20% of the portfolio. I think that's about the right international exposure for retirees. You get the growth and dividends without reaching outside of your risk tolerance.
Disclosure: I/we have a beneficial long position in the shares of qqq, PBW either through stock ownership, options, or other derivatives.
I wrote this article myself, and it expresses my own opinions. I am not receiving compensation for it. I have no business relationship with any company whose stock is mentioned in this article.