Each week I cover stocks on this quarter's Plug & Play Stocks list, and anything new, that we can consider buying now or soon. We also cover the stocks to trim on profits. Read Using Plug & Play Stocks and Technical Trading Basics: Using Overbought And Oversold Signals To Buy And Sell before buying or selling.
For your own screening, tracking and understanding, I highly recommend:
TradingView for technical analysis, technical screening and charts.
Stock Rover for fundamental screening, tracking and comparisons.
This week we are mixing in the Retirement Income Options notes as well as we see how far this correction goes.
This Week's Big Ideas
There are so many of our Plug & Play stocks getting beaten up, it's almost tough to pick. You can look at the lists and see what you like or have had your eye on, but I'll cover here a dozen that I have at the top of my list.
First off, please always read last week's Stocks Of The Week because I'm trying not to overlap companies back to back weeks.
Stocks Of The Week: Big Ideas & Investing Basket Coverage | Seeking Alpha Marketplace
Millennials Control The Markets Now
Sort of.
Will Young Traders Flip The Option Switch To Cause A Crash?
And suddenly Millennials are buying puts. Hmmm, go figure. Pays to read Reddit I guess.
And, they're buying those puts ahead of the big guys, who are sure to follow as they've been chomping at the bit.
What does that mean? As I've said, a decline could be met with more decline. A drop fueled by downward option driven momentum for about a month, then a small rebound, followed by another wave down in stocks.
What I just described would be classic Elliott Wave Theory aided by leverage.
So, go slow in buying and selling puts, nibbles, not gobbles.
Big Stocks
Microsoft (MSFT) is down about $5 from its high, so not close to buying yet. And, I'll likely just buy Invesco QQQ (QQQ) for my large cap exposure.
So, basically, let's keep an eye on the top QQQ stocks to know when to buy QQQ. We looked at Apple last week. Still looks like around $300 to buy QQQ. I've updated the chart a bit.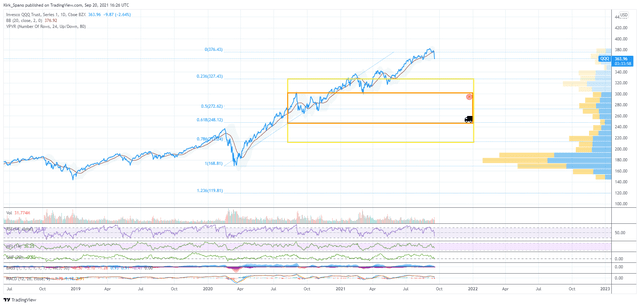 Growth Stocks
Aemitis (AMTX) this stock behaved so well the past month since I alerted you to it before earnings. They have great first mover advantage in California on carbon capture, sequestration and what I'm calling recycled carbon for jet fuel (everyone wants to say renewable, and I guess to the extent that cows poop over and over it is, but really, it's recycling carbon) that their runway is very long. They also have a wildcard which is a position in an electric delivery truck company (we'll see what happens there, I'd think some sort of M&A). I've waited on interviewing the CEO whose phone number I have until I was 100% up to speed here. I thin this is a company you want for the growth now and probably a dividend later.
I'm looking to sell November $12.50 puts for $2.50 or more. I'll take a starter position as well at about $11.
AST SpaceMobile (ASTS) remains a Reddit favorite as it's a top topic there. It's going to be volatile. Short story, we don't know if this stock will fly, but if their satellite 5G direct to phone tech works (it probably will based on all info now), this is a $100 stock fast.
I love selling puts on ASTS. Right now I have $12.50 November covered calls on a position that got to big. If it falls enough I'll sell more cash-secured puts because I think around $6 is a firm bottom and around $8 is pretty firm. Not for the faint of heart, but massive upside on a cheap stock.
Again, I reiterate, I built my Exact Sciences position trading options around a core position a decade ago. I ended up with basically a free position on EXAS from all the options premium. Learn to sell options if you don't already do it. Just selling, that's all you really need. Ebb and flow trading a few times per year on stock positions you already own or want to own can be huge.
BlackSky (BKSY), CF Acquisition (CFV) aka Satellogic, dMY Tech (DMYQ) aka Planet Labs and Spire Global (SPIR) are all screaming at you, look up, up at the sky, flying faster than a speeding bullet, what is that, it's a bird, it's a plane, no it's our satellites! 
If you don't buy these or sell puts on them, well, I'm going to mock you like a Frenchman.
BlackSky is under $11 again, CFV and DMYQ are both under $10 and screaming at you to take a starter position on the units if you can get them which price a bit higher, and SPIR is under $13 again.
Again, short story, huge upside, small downside, will add mountains of data to the cloud. They are using AI for observing weather, climate change, bad guys, good guys, animal migrations, aliens, logistics – you know, the entire global economy and are into communications. All 4 could be ten-baggers, I suspect more likely 2 or 3 as I think there's a merger or buyout or two coming. Buy the basket, don't think you can outsmart the market.
Fast Acquisition (FST) aka Fertitta Entertainment, might be my favorite "easy money" stock. Why do I say that, well, I have a system, I wait for the old lady to sit at a slot machine for an hour, then… jest kidding, the deals that Fertitta is doing are amazing. The latest with DraftKings (DKNG) is fantastic. Owning FST gets you a big hunk of DraftKings to now at a discount, sort of like owning Liberty Sirius (LSXMK) vs Sirius (SIRI). It's hard to know how high FST can go, but if you've been watching TV you've seen the Caesars (CZR) commercials. Here's what their chart looks like before the online gaming revs hit in full: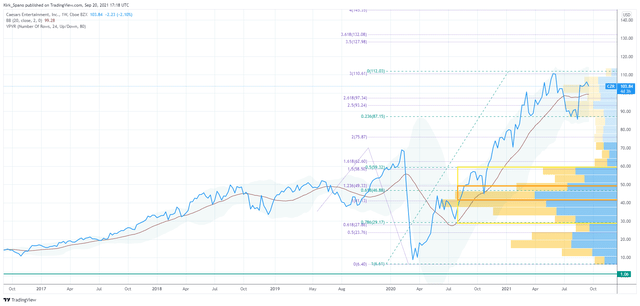 I think FST does something like that. Buy FST to a full position (3-4%) or sell puts that can get you there or a combination. FST is already a 2% position for me, so I am trying to sell November $12.50 puts for at least $1.50.
Ford (F) yeah, I said I didn't want to repeat, but Ford is down almost a buck. Those November $12s are closing in from last week's Retirement Income Options: Plug & Play Coverage.
MP Materials (MP) October $30 puts are suddenly interesting near $2.
OpenDoor (OPEN) quite a few of your should have had some OpenDoor shares called away from you on Friday. And now, it's not down on the correction. Another pick that's not down today. Like it's a good stock or something. If you don't have OPEN yet, keep your eyes on out on getting it on any dip. It's in the buy zone now, but you might get a $17ish price if everyone starts selling everything.
WeWork (BOWX) is up today. Weird huh? At a minimum you should be selling puts on this. They have almost no downside due to the nature of their business and now over 50% enterprise contracts. Their upside is the only thing in question. I can see a triple on this, but not a ten bagger. Put premiums are fat for December. Also, if you had this stock put to you at $12.50 like me, then start hunting for December $12.50 covered calls for over a buck, especially when pairing with a put sale.
+++ I am adding a stock to Plug & Play Growth that a subscriber reminded me about that I mentioned early in the year but it was too expensive:
Stone Co (STNE) is a fintech company in Brazil which is a fast growing big market.
Stone is a big holding of Berkshire Hathway (BRK.B). See their presentations here https://investors.stone.co/ More to come later.
* A note regarding Warrants from SPACs. Leave'em alone. The whole point of warrants is to have a long-term call option. Give it time. Consider selling when the underlying stock gets to the upper teens in most cases due to warrant redemption provisions.
Dividend Stocks
AT&T (T) and Viacom (VIAC) remain at the top of my list for reasons I've discussed, including last week. Everyone should have a full position in both or a half position with sold puts for more. Remember, T gets you Discovery (DISCA) down the road.
+++ I mentioned Comcast (CMCSA) last week. It is now officially a Plug & Play Dividend Collector on the very strong M&A likelihood with Universal Studios & NBC. They pay about a 1.75% dividend at these prices, but on a deal would be able to cut debt, build more fiber, buy back shares and raise the dividend a touch – the shareholder yield trifecta plus reinvesting in the core business.
Comcast is down a buck today and looks like it's headed to around $50. That's where we'll target starter positions and put selling. Keep an eye on it.
Lockheed Martin (LMT) is one of the most important and impressive companies in the world. It's down to the edge of our buy zone. I know a few of you have asked about it. It's almost oversold weekly, but I think we are about to see some monthly over sold charts soon.
The entire S&P 500 (SPY) needs to come down and LMT is a big part of that. So, when the ETF selling starts, LMT could take a bigger digger. It will rebound with the tech stocks though as they pull money back not SPY and (VOO).
Frankly, this is one of the biggest warning charts I'm seeing. I think it gets to around $300 and holds, but if things go more south, we could see some Armageddon stuff. So hard to say now. Let's check back soon.
Final Quick Thoughts
Honestly, not much is changing. There's some froth off the expresso so far, but nothing too damaging. We're on Thunderstorm Watch right now, but no warning just yet.
Be careful out there. Keep your powder mostly dry beyond some nibbles used to slowly build some positions that don't require being too smart – that is, don't try to be perfect, buy tiny amounts just in case QQQ and the rest of the market gets another puff on the cigar before a major decline. That's why we accumulated cash this summer, so being good is good enough. If we're perfect, it's lucky.
Make sure to check into the chat especially when volatility is up. Would love to see you in there talking about investment ideas, especially that relate to industries you know well. The Stone Co idea was from a member. I'm checking in 2 or 3 times per day and will answer questions best I can and/or write a piece.