As I discussed in Macro Dashes, the markets are overbought, overvalued, over leveraged and the Fed is tightening. What me worry? What could go wrong?
Tighten up and buckle up, things could get rocky for the next year or so.
Small & Mid Caps
A lot of small and mid caps have been getting attacked in recent weeks. Earnings calls, no matter what was said, were narrated as bad. Dark pool traders manipulated thinly traded markets and forced ETFs to rebalance.
These beat downs will normally last until value investors come in and stimulate the interest of chasers. That normally takes a month or two. So, we don't have to buy the week of a stock crash in most cases, but should be ready with our cash to buy once the big selling stops.
My time frame for growth stocks is intermediate term at 2-5 years with the opportunity to triple or better. Here are 3 small and midcaps we can buy soon or now:
StoneCo (STNE)
The fintech company got slaughtered this week as they had a large write down based on financing of non-performing [bad] consumer loans as part of their agreement and investment in Banco Inter. The stock is now down over 75% for the year and back to its IPO price level (when Warren Buffett and Berkshire Hathaway (BRK.B) bought)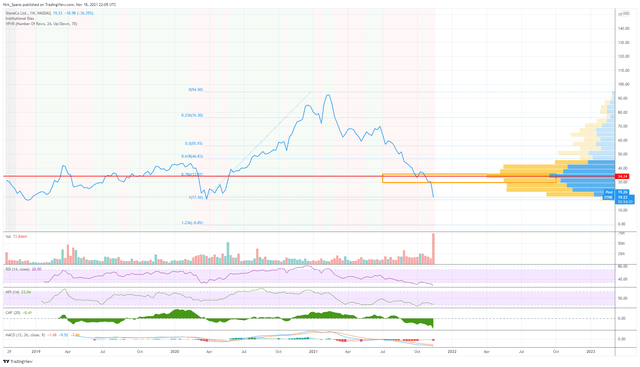 STNE has blasted through my buy zone that I set back in June when the stock was trading in the $60s and folks told me it wouldn't get that low again. So, here we are and what to do?
I had a position from the top of the buy zone. This is a perfect example of how to average down on a position. Once at each technical level, top and bottom of the buy zone. This is different than the Martingale betting system styles of most people who over commit too fast.
The company is trading at below $7 billion market cap all of a sudden. I can see a return to the $30 billion area in the next few years. So, well above my potential triple threshold for buying a growth stock.
I am a buyer here. I doubled my position in STNE to a full 3-4% position and lowered my cost basis by over $5 to middle $20s.
Cathy Wood at ARK Invest also is a buyer. I'm sure she sees what I do, that StoneCo has a large runway, is further along in the process of growing the business than at the IPO and is cheap again.
It would not surprise me to see in a day or two that Berkshire was soaking up shares that is sold in Q1 between $60-94/share. It would be a very Todd Combs like to buy, trim on strength and buy back on weakness. Keep in mind, for Berkshire to invest being as big as they are, they have to believe investing in a company can move the needle for them. That's a big needle to move.
StoneCo is also a company that has attention of Reddit traders.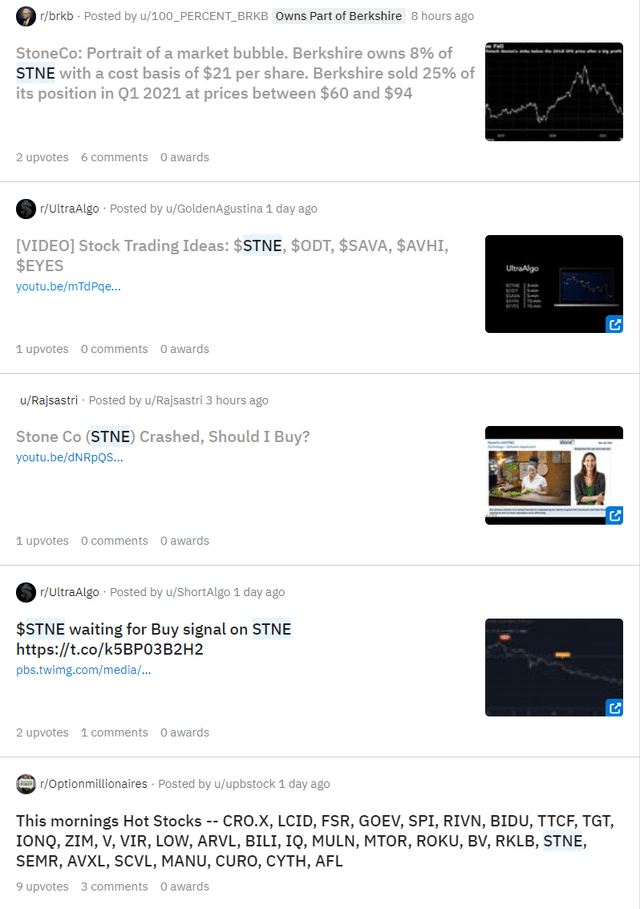 This is no sure thing for sure, but as we have watched from early on when I told folks about the Reddit crowd a few years ago, they are worth watching, and generally we don't want to actively bet against them as they have the numbers – think 5 on 1 fast breaks. 
Buy StoneCo (STNE) now and/or sell $18 January puts at the money if you already have a position. I urge you to at least get a starting position if you have none.
Jumia Technology (JMIA)
Jumia is another one of our moon shot international growth ideas. Per Jumia's Q3 Investor Presentation: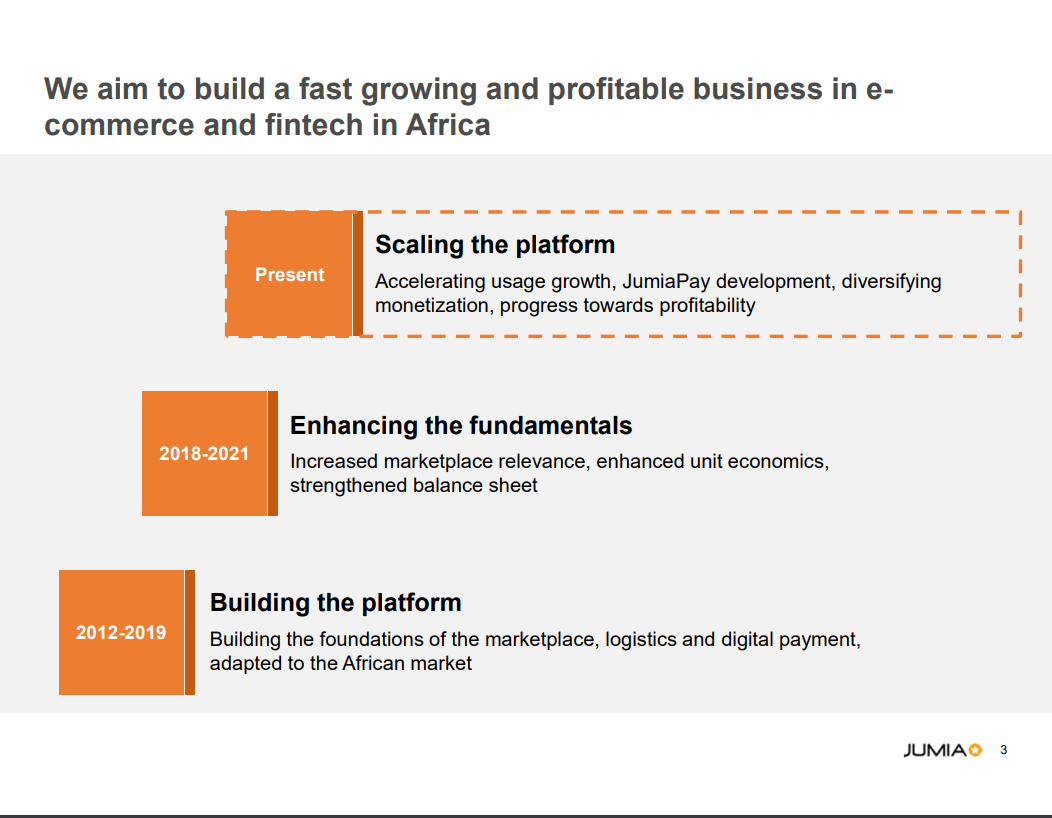 We just started taking a position in this company the past quarter and are a couple bucks underwater with the reaction to the earnings. I'm not terribly worried. The company is growing and on the verge of profitability.
JMIA peaked early in the year like a lot of growth stocks and is down about 80% right now. I do not harbor hopes of Jumia becoming the next Amazon or Alibaba, but they are in high growth markets and have some early mover advantage.
Like Amazon did early, they are investing in growth. While it probably doesn't have the magnitude of Amazon, it should do very well and/or get acquired (potential M&A is an underlying theme on most of our stocks as it's always nice to have bidders). 
Jumia's market cap is a scant $1.5 billion right now. This company can very easily be worth $10 billion in several years as Africa and their other emerging market emerge. I expect a good holiday season for them.
But, as we know on low float stocks, traders can move prices fast and hard for short periods of time. I expect you have a month or two to accumulate some shares, but I do rate Jumia a buy right now. Take a starting position now if you have none and/or sell near the money January cash-secured puts (remember, no margin).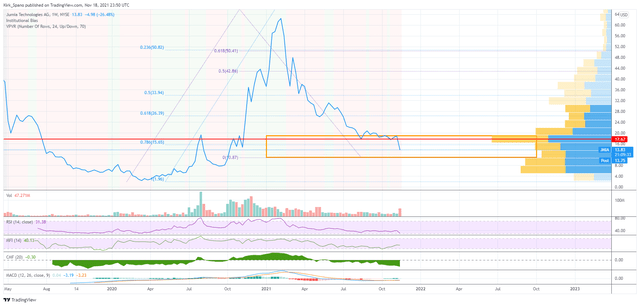 Aemetis (AMTX)
Aemetis seems to be giving a lot of us a second chance. We first started talking about this carbon capture and recyclable energy (my term) company around $9 per share. It ran quick on us and all I've been able to do so far is have a few puts expire for the [fat] premiums.
As an energy company in the new and emerging spaces of carbon capture and "renewable" energy solutions, Aemetis promises to be volatile. It's upside is substantial though.
Aemetis projecting over $1 billion dollars a year in revenues by mid decade based on a 35% CAGR. And that looks very achievable, in fact, I think they are underselling.
As pointed out by an analyst on the conference call, with new climate change legislation intact via the infrastructure bill, tax credits that were not factored in before will add potentially a dollar per gallon for renewable diesel fuel [already have a deal with Delta (DAL) for jet fuel] and credits for carbon capture and sequestration. They could benefit more from pending reconciliation bill.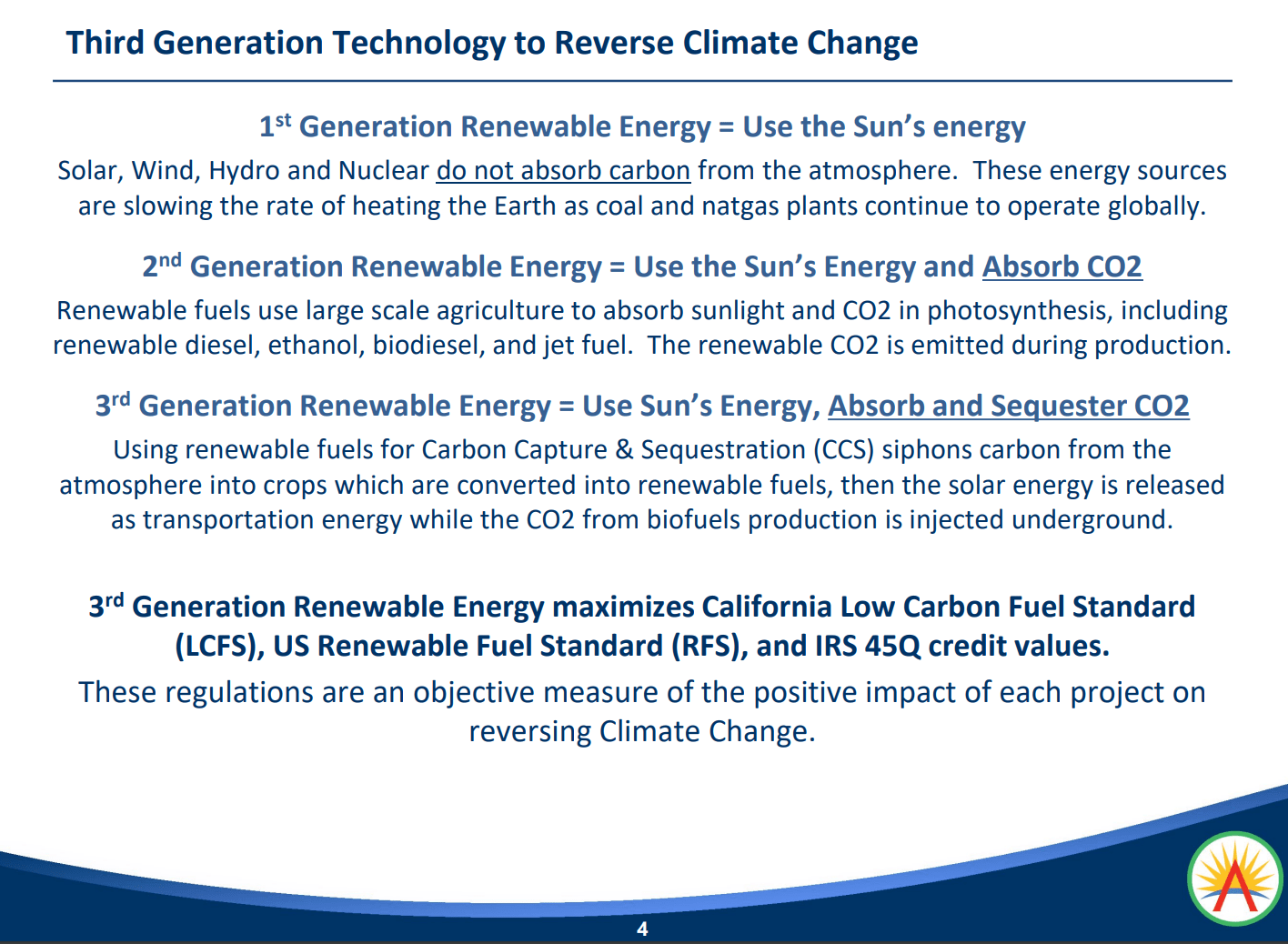 Aemetis market cap is under $700 million dollars right now which is cheap when considering a billion future revenues and only 33.3m shares outstanding. However, there is risk to be aware of. Aemetis is not a free cash flow generator yet and the company will be doing some dilution through an ATM.
Further, it needs the cooperation of its senior lender to avoid a negative share price event. Here's some pertinent details from their 10Q.
As such, I am an active put seller on corrections, like now, but do not hold shares as yet. For now, I am selling $15 January puts. Around $10 per share I would be an enthusiastic buyer building a larger position.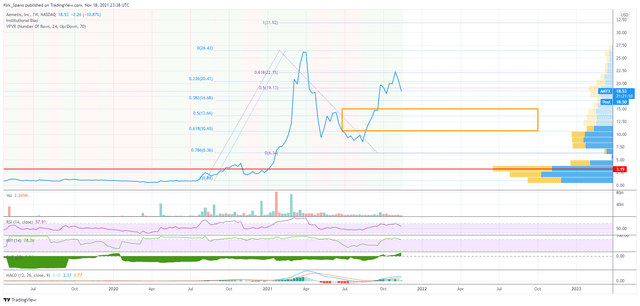 Large & Mega Caps
Large caps will get beat up once the ETFs are forced to sell as a some big caps get sold off. It will be a domino effect that turns into a spiral downward. First one company, then another, then more, then all of them as ETF investors panic.
Between waves down will be partial recoveries. The recoveries can be trimmed into if you're trading a portion of your portfolio.
In general, look for bottom fishing prices on the highest quality stocks. I will be updating the P&P for January to focus on my favorite 20 quality stocks in each category. I'll also be breaking out "build your own ETF" sections for recent SPACs/IPOs, REITs and Utilities.
Speaking of utilities, I wrote the article on utes a few days ago because they are out of favor and will bottom at some point soon. Once they do, income investors will have a month or two to really get involved.
Here are 3 large caps I will be adding back to our focus list soon:
PayPal (PYPL)
A member asked about PayPal today in the chatroom. This was a company I invested in at the IPO and sold way too soon around $100 per share. I don't expect to see a price that low ever again.
However, PayPal is in a growth mode into a tightening liquidity market and many fast moving trends in DeFi and banking that they have to navigate. It's a situation that is ripe for more volatility.
As I said above, I want to look for a bottom fishing price on this one, but it is one that I am likely to pull the trigger a little earlier than later because it is such high quality with massive TAM. Despite their history so far, their ramp is still long and high.
My requirement to invest in a growth stock is that I think it can triple within 3-5 years. From a bottom fishing price around $150, I think PayPal could meet my triple standard. If it somehow gets lower than that, then I'll become very constructive presuming no weird, long-term, negative business developments.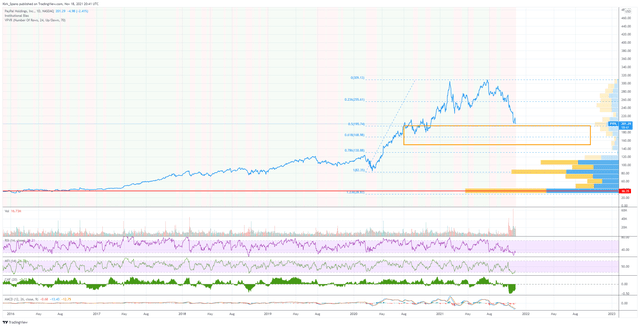 Roku is another stock that I put a much lower buy zone on several months ago. As typical, I was told it would never happen. Well, it's happening. And, I'm not so sure I want to buy yet.
Our bullish long-term thesis on AT&T (T) and Comcast (CMCSA) both include competition for Roku. That is, I see both companies offering streaming platforms over the wire or wireless in a device agnostic way.
There will be no need to add Roku to get great a great streaming platform for many people who already have Amazon (AMZN) Prime [millions of folks] or Apple TV [millions more], or internet service from AT&T or Comcast or other providers. Or, for the many people who Amazon, Apple and a internet provider's built in streaming platform coming soon.
In short, copying what Roku pioneered is going to be easy for certain players. I think the competition for Roku just got hot and heavy. I don't know yet what that means for Roku. But, I have seen them lose some big deals, Spectrum cable and now a major spat with YouTube.
While Roku will continue to exist, I'll use it until my next TVs at least, their margins and growth are both going to be impacted. Current leadership or not.
I rate Roku an ignore for now. If/when it gets to around $160 I'll look again at that time.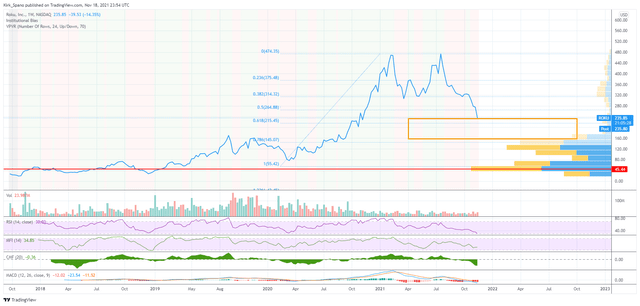 Disney (DIS)
Coronavirus has hurt Disney. But, their management has consistently confused me for 20 years too. The company seems like it should be doing much, much better. I wonder if some sort of business division makes sense. Maybe splitting off the theme parks into a REIT?
[Long-time readers know that when I say something like that to pay attention. Remember, I'm the guy who said GameStop (GME) should go the route they are going 3 years ago, and how AT&T (T) would break off Warner 2 years ahead of time (subscribers ongoing content), and GE (GE) would be in the teens for years and need to split up, etc…]
Disney has an amazing content library and will keep on churning out great content. How can they not? Disney, Star Wars, Marvel, Pixar, National Geo, etc… I think they're only behind the about to be new Discovery (DISCA) and Warner Bros next year.
Those theme parks though and the cruise line. Do they really need to be so formally attached? And, what about ESPN? Maybe Disney needs to fold in Peacock from Universal and go full boar new age multi-channel network to compete head-on with Warner Discovery.
And there's the problem, I don't think any investors know the exact way to get Disney to outperform and that's going to be a drag on price for a while. Until at least there's a plan to unlock value, whatever it is. Maybe investors hate the plan.
That all makes me demand a bottom fishing price on Disney or almost. For now, I'm watching for fix it news or a stupid low price in the lower $100s on the stock. If the stupid low price comes first, I'll buy and hold my nose waiting for positive solutions.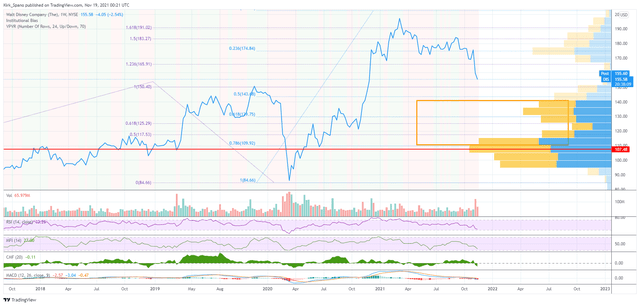 Investment Quick Thought
I think you feel what I'm getting at.
The stock market is in a new dangerous phase. We need to be very careful about what we buy now. The small and midcaps will be volatile and we will get our chance to fill out positions. But, the quality large caps should come to us too in time.
Prepare you bucket to catch the golden rain when the storms come.
Disclosure: I/we have a beneficial long position in the shares of AMTX, JMIA, STNE either through stock ownership, options, or other derivatives.
I wrote this article myself, and it expresses my own opinions. I am not receiving compensation for it. I have no business relationship with any company whose stock is mentioned in this article.
Additional disclosure: I am short puts on AMTX and JMIA. I own shares in STNE and JMIA.