Summary
Switching to a Quarterly Focus Stock List.
We expect volatility this autumn on Iran and Trade, so, I have raised some cash.
We are looking specifically for quality and asymmetric growth opportunities.
All you need for a lifetime of successful investing is a few big winners, and the pluses from those will overwhelm the minuses from the stocks that don't work out. — Peter Lynch
In real estate it is "location, location, location." In stocks it's quality, quality, quality and asymmetric growth potential. The problem is that in the stock market, basically everybody knows who the quality stocks are. There are certain companies that only go on sale once or twice a decade, usually during correlated market corrections when "everything" falls in price.
So, when everything goes on sale, we want to buy very high quality. Other times when the market is humming along, we'll hunt for undervalued growth that has a chance to vastly outperform. There a lot of bad and mediocre stocks, if we just do our best to avoid those, we will do pretty well.
Each quarter we will target 15 to 20 dividend stocks. Remember, just because a dividend grows doesn't make a company strong. If they borrow to pay the dividend, if there's no revenue growth or temporary financial engineering is used, then a dividend growth stock might not really be a dividend growth stock.
To spot quality, look for rising Shareholder Yield, and strong ROA, ROI and ROE. Shareholder Yield consists of falling debt, rising dividends and share buybacks from expanding free cash flow – it is one of my favorite metrics.
We will also target 15 to 20 growth companies. Many of the growth companies are somehow in tech. The massive changes that are occuring in the world are virtually all tech related. There will be a common theme to all of these – they are all profitable or on the verge of being profitable (on the verge is the next year or two). No speculations. We don't need to.
We will also focus on 5 to 10 ETFs for asset allocation.
Here is this quarter's VSL and Sheets updated URL:
VSL, Models & Asset Tracker Q3 2018 (July 2018)
(The VSL Sheets link will be updated at the quarter and sometime in the middle of each quarter. The VSL is a new concept borne of necessity due to Seeking Alpha not having a tracking tool anymore. It will keep getting better.)
The Core 4 framework:
Macro story / big trends impacting the company.
Government and central bank influence on the company.
Fundamentals, including debt position, growth and shareholder yield.
Price trend analysis, i.e. support and momentum characteristics.
A few things to keep in mind that color my investment picks:
I don't believe interest rates will climb much past 3% on the 10-year Treasury. The economy simply cannot handle much pressure as the #slowgrowthforever future plays out. The Fed will have to avoid inverting the curve through aggressive monetary tightening. Ultimately, I think the pace of tightening is less than what the Fed is suggesting early in Fed Chair Powell's term.
The broad stock market: the S&P 500 will have a return of roughly ZERO over the next 5 to 7 years. In short, I believe that a rally to 3000 on the S&P 500 is very likely by 2019. However, as I have shown, the downside near term remains around 2200-2300 on the S&P 500. That is a dip to buy. Eventually, there will be a recession and the downside on the S&P 500 is in the 1600-1700 range. That will be a bear market to buy into with leverage once the blood letting slows.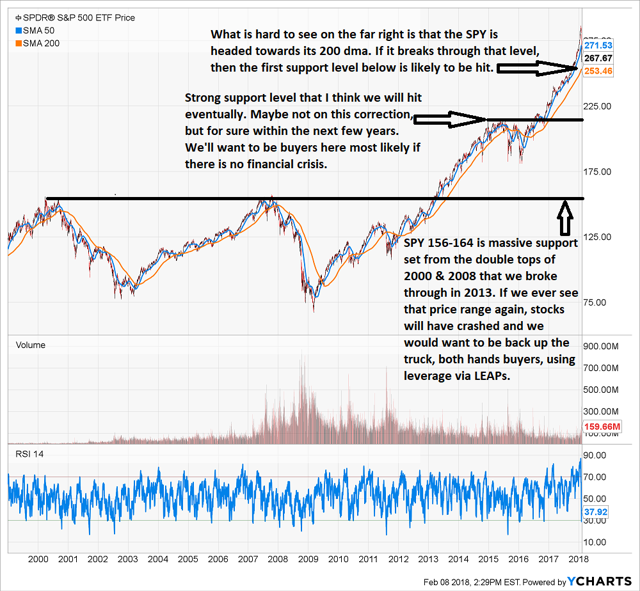 As investors, we have to be very careful to avoid the capital intensive slow/no growth parts of the economy and focus on the strong spots that are almost universally grounded in the "change" economy. The "smart everything" and alternative energy economies are growing rapidly from small numbers – that is an investor's dream. Consider changes in medicine, water, farming, building, communications, finance, etc… That's where the earnings will be.
There are also some commodity plays, particularly in oil and gas, that will buck the trend as oil and gas prices find a higher trading range. In addition, certain slow growth industries occasionally become very undervalued due to incorrect narratives, right now, telecom is among those. Telecom, with the advent of more IoT traffic due to smart everything, unplugging for entertainment, the advent of 5G and very watered down net neutrality offer a unique opportunity to buy telecom on the cheap.
Retirement & Dividend Stocks
| | |
| --- | --- |
| Company | Notes |
| AT&T (T) | 5G, new trading range coming, another new Netflix competitor |
| CenturyLink (CTL) | natural 5G partner for regional wireless |
| CF Holdings (CF) | ate their MLP, delicious |
| Cisco Systems (CSCO) | IoT, communications bump |
| DowDupont (DWDP) | Best chemical company |
| Flour (FLR) | engineers retrenching |
| Gamestop (GME) | value and opportunity in VR |
| Helmerich & Payne | land oil |
| Intel (INTC) | zillion pound gorilla semiconductors |
| Kinder Morgan (KMI) | the pipe you want |
| Lockheed Martin (LMT) | Best company in the world? |
| Nutrien (NTR) | gotta have food, backdoor climate change play, oligopoly pricing |
| Occidental Petroleum (OXY) | oil income and growth, XOM and CVX substitute |
| Procter & Gamble (PG) | they make stuff you need, strategic value potential |
| Qualcomm (QCOM) | Yuge buyback |
| Store Capital (STOR) | inflation hedge, real estate income |
| Total (TOT) | If you gotta have a major, this is the one |
| Verizon Communications (VZ) | 5G |
| Walt Disney (DIS) | Netflix competitor coming strong on content, strategic value |
Punch Card Stocks for Growth
| | |
| --- | --- |
| Company | Notes |
| Antero Resources (AR) | Natural gas is about to be in Bloom |
| Bloom Energy (BE) | This is a big deal IPO |
| Calix (CALX) | 5G |
| Coeur Mining (CDE) | Suddenly buyable, Silvertip is key |
| Encana (ECA) | 4 key assets |
| First Solar (FSLR) | the future of energy |
| Itron (ITRI) | smart |
| Lion's Gate Entertainment (LGF.A) | content for sale |
| Lumentum (LITE) | cloud, 3D sensing, VR, AR, autonomous cars |
| Google (GOOG) | Best company in the world? |
| Micron (MU) | oligopoly pricing DRAM |
| PayPal (PYPL) | moving money, blockchain |
| Pioneer Resources (PXD) | oily |
| Sierra Wireless (SWIR) | IoT |
| Solaredge (SEDG) | the future of energy |
| SunPower (SPWR) | the future of energy |
| T2 Biosystems (TTOO) | potential massive annuity like revenue |
| US Cellular (USM) | takeover target |
ETFavorites
| | |
| --- | --- |
| Fund Name | Notes |
| iShares Australia (EWA) | Commodities |
| iShares Mexico (EWW) | Trade rebound |
| iShares U.S. Telecom (IYZ) | Companies moving to communications ETF |
| Invesco QQQ (QQQ) | Top ETF |
| SPDR Oil & Gas Exploration & Production (XOP) | Big earnings coming for next few years |
| SPDR Semiconductor (XSD) | Best tech sector |
When the stock market has been in rally mode, I strongly suggest using trailing stops set at about 12-15% on stocks and about 7-8% on ETFs. Those are generally levels that will avoid getting shaken out, but protect you from large declines.
Disclosure: I am/we are long T, ECA, OXY, XOP.
I wrote this article myself, and it expresses my own opinions. I am not receiving compensation for it. I have no business relationship with any company whose stock is mentioned in this article.
Additional disclosure: I may be long any of these stocks at a given time. I own a Registered Investment Advisor – https://bluemoundassetmanagement.com – however, publish separately from that entity for self-directed investors. Any information, opinions, research or thoughts presented are not specific advice as I do not have full knowledge of your circumstances. All investors ought to take special care to consider risk, as all investments carry the potential for loss. Consulting an investment advisor might be in your best interest before proceeding on any trade or investment.