Summary
Very few stocks are of value right now in the tech world.
Companies with hidden assets are where value can be found.
Rotations happen when they happen, get in front of the next rotation.
Not being fully invested in tech is upsetting a lot of investors. Why? Because tech is ripping.
Hindsight though isn't as perfect as it would seem. From the dot com tech wreck of 2000 to 2002 it took over 14 years from get back to peak and set new highs.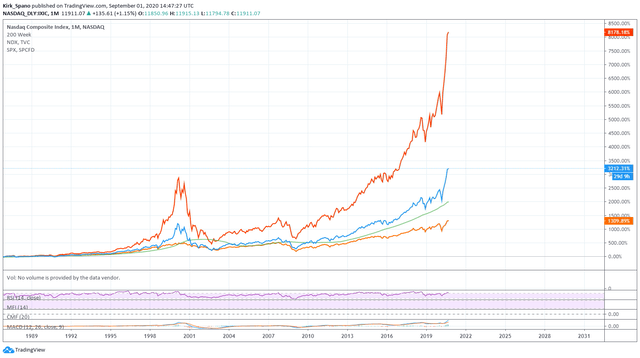 I'm not suggesting we see that sort of thing happens again – not exactly. What I am suggesting is that investors sometimes get blinded by greed and envy.
Their blindness causes them to not think about the businesses that underlie the stocks. Valuations stop mattering. Charts go almost straight up.
It is at these times investors must do two things:
Manage risk.
Plan for what's next.
Of note, I do not expect the Q4 Plug and Play to change much. There are a few stocks I will replace with favorites to be bought on a correlated correction. And, during a correlated correction, remember to buy the Invesco QQQ ETF (QQQ) to get pieces of Apple (AAPL), Amazon (AMZN), Alphabet (GOOGL) and Microsoft (MSFT).
Where The Value Is Now?
In the Plug & Play Stock model portfolios there are over 40 companies represented. Let's take a look at where they stand using Stock Rover to sort.
As you can see, as marked by red, many of our growth stocks are overbought and likely overvalued. We need a correction to justify buying these.
The purple stocks could be candidates for cash-secured puts or starter positions in more aggressive accounts soon. Yellow stocks are in the buy zone if they fit your level of aggression and risk tolerance.
Lotto
Dynavax (DVAX) is a lotto ticket that could go up 20x or 30x if they get lucky on a COVID-19 partner, but could also go to zero.
A New Industrial Conglomerate
Ford (F) is one of my favorite long-term growth picks. And, remember, if they make an announcement that they are going EV on everything from the F-150 to sedans, SUVs and crossovers that they could pick-up the Millennial investor, who has become the marginal investor, quickly. Already Ford is a big holding among Robin Hood investors.
There are multiple "what the market is missing" on Ford. The first thing is the 4th Industrial Revolution. This is an important concept to master. It's more than just more automation. It is a complete change in how manufacturing is done.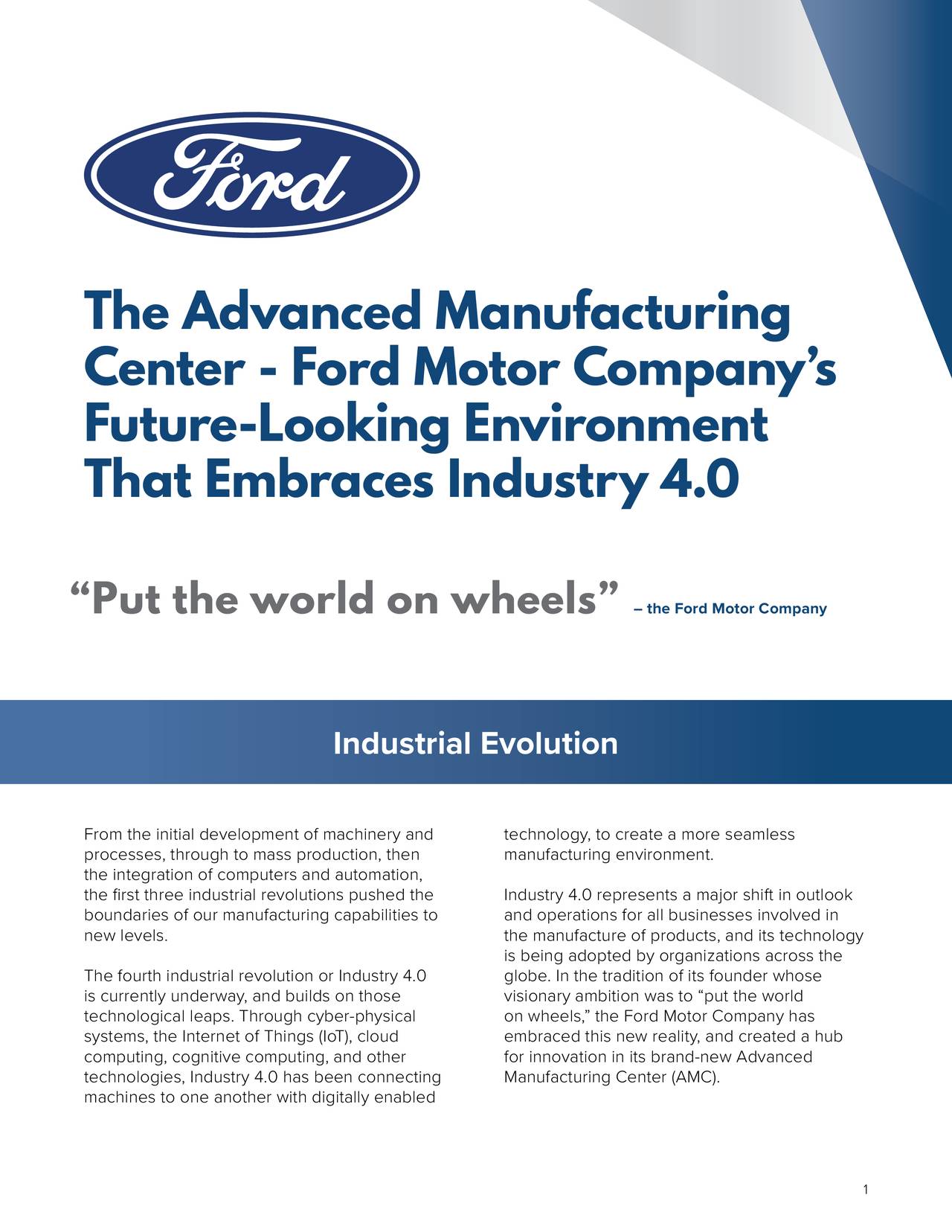 Here is a 4IR piece from Fitch as well.
Ford is one of a handful of companies in the world that have invested heavily in this technology so far. As we have seen it has allowed them manufacture medical equipment in response to COVID-19. That is the flexibility and intelligence of these processes.
In addition, there are clear military industrial applications. These are the Fordbots I saw at the Consumer Electronics Show in January.
And then, there's the cars. The F-150 will offer an electric vehicle in 2022.
This is the Mustang Mach E from CES.
The stock is cheap and jitterbugging near what I believe is the bottom half of it's buy range. Buy some shares and maybe sell January $10 puts to get more at a premium discount.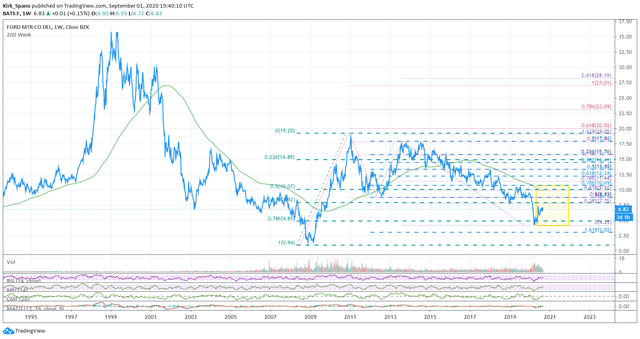 When, not if, Ford announces all vehicles from the F-150 down, SUVs, crossovers and sedans will be EV, the stock could catch a lot of attention from folks who feel they missed out on Tesla (TSLA). The stock is already getting attention on Robin Hood. I think the institutions and hedge funds are going to pile in soon enough.
I strongly recommend building a position through year-end. Start with 1%, then build up to a 4% position if that fits your aggression level and risk tolerance.
Dividend Stocks
Our dividend stocks are showing some value. Several have triggered price alerts. Make sure you are following the price alerts in MoSI, which can be found in the right hand menu bar.

3M (MMM) and Analog Devices (ADI) are not cheap, but should be watched if there is a correction in Q4.
What The Market Is Missing On AT&T
AT&T (T) is one of my favorite dividend stocks. Why is that? Beyond the obvious 5G opportunity, are some hidden assets. Weirdly, even though AT&T is going to take a 40-60% loss on DirecTV, it is still an asset that can cut their debt by around $20 billion if packaged up for a private equity firm. More attractive for AT&T is Warner Bros. It is worth over $100 billion. I believe it will eventually be sold for a profit. When that happens, AT&T will cut content development costs out of its budget.
When AT&T sells Warner Bros, it will likely also cut a deal with the purchaser that is advantageous for customer acquisition. Consider what a deal with Apple would look like. Could they arrange for AT&T to have a week headstart on other phone companies for products? Could they move the Genius Bars to AT&T stores? They'd certainly cut a deal for AT&T TV to have Warner Bros & HBO Max content for cheap long-term.
What I have been discussing about AT&T is the sort of thing the market is missing on valuing the company. It might take sales of Direct TV or Warner Bros for the market to recognize the value. Or maybe, AT&T simply just starts kicking out bigger profits over time. Either way, it's a win or win sooner proposition with this company. And, while you wait, the dividend is huge.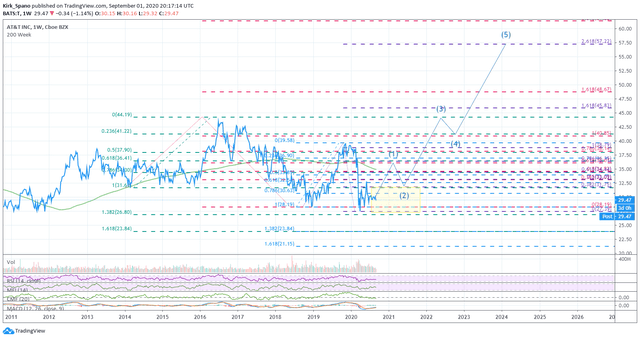 A Slowing Dividend Payer
Cisco (CSCO) is concerning me. I think their growth window is closing and that is going to be a valuation issue, so it's imperative to buy it only when cheap. I think it holds support in the low $30s, however, see the earlier days of the chart. If it breaks under about $31, that could lead to a lower trading range. I'm likely to replace Cisco for Q4.
Core Dividend Stocks
Lam Research (LRCX), Lockheed Martin (LMT), Merck (MRK), Northrup Grumman (NOC), Starbucks (SBUX) and Walt Disney (DIS) are all great companies. Likely to stay on the Plug & Play a long time. If we can buy near 52 week lows, we'll want to do that. These are core dividend companies to own as they all feature a growth component and huge cash flows.
Trimming A Golden Winner, But Adding Gold
I want to single out Newmont Mining (NEM) because it's been a huge winner since we built our position when it merged last year.
Mining for gold is going to get more expensive in the next decade or two as scarcity occurs. There haven't been many gold finds in the past decade. But, Newmont has great properties with some shelf life.
That said, I'm not sure how the price dynamic is going to work with gold mining costs vs gold price. Remember, I suggested 15% gold exposure, mostly through mines in March. That 15% represents three-quarters of the money that might otherwise go to bonds in a standard 80% equity and 20% fixed income portfolio (remember, we know that 80/20 has gotten about the same results as 100% equities, but with less volatility).
So, gold is not a stock substitute even though you can get exposure through stocks. Gold and gold linked investments are a hedge against "flation." Both inflation and deflation.
That said, I think it's time to bring your gold exposure via the SPDR Gold Trust (GLD) to about even with your Gold Miners exposure, which you might have with Newmont, Coeur (CDE) and the Van Eck Gold Miners ETF (GDX). That doesn't mean to sell a lot of the miners, but rather trim and add to your GLD position on dips. I think it's ok to go about 10% to each side.
Why do I think this now. I think the alternative investments are the best bets for a while. The stock market is inflated and "the money printer go brrr" is old news that's bound to taper off. The stock market don't like taper.
Importantly, as I said, I don't know exactly how the cost to price will play out. We might be a little later in the cycle than normal just because how fast things are playing out. I do think Gold goes to $3000/oz for a minute. And that should be good for miners. However, I also don't know when the market gives the miner their maximum PE ratio. We might be almost there. If that's the case, only earnings growth will matter, not PE expansion, which has been a big deal so far coming off the long-term gold stock bear market.
Natural Gas Pipes & Fertilizer
I've talked about these enough. Make sure you have 2% of your stock allocation in Nutrien (NTR) and Kinder Morgan (KMI) or possibly even 4% if you are a dividend income first investor.
Climate change is real, meaning more fertilizer in the future. Nutrien and the oligopoly that controls the fertilizer markets have cut back on production. That cow will come home to roost soon.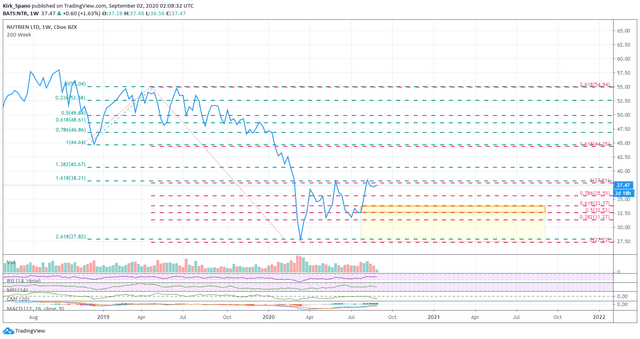 Kinder Morgan is the largest natural gas pipeline company in America by miles of pipe. They have good CO2 which is important as well for maximizing conventional oil wells – which might become much more important soon with oil prices likely to stay capped around $60 per barrel maybe for a very long time.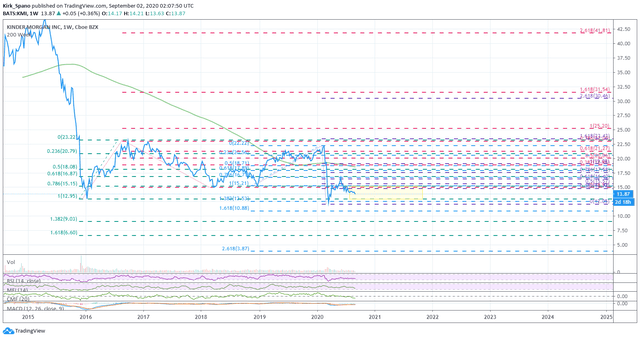 Other Investments Of Note Close To Buy Zones
I own a little Swiss Franc ETF (FXF) and Australian Dollar (FXA) in place of some of my cash.
I also am looking to enter Bitcoin around $10,000 for some of my cash. Bitcoin might rally big as institutions adopt it, but it's so unknown what the unknowns are, that I only use it to hedge some cash. The institutional interest, what I learned at CES and this talk by Cathy Wood from Ark Investments make me want to own a touch longer-term if I can buy a big dip.
At my Investment 2020s YouTube page, check out the playlists. I'm starting to add the best videos I find online. I'm pretty selective, only adding 1 or 2 per week on top of mine.
For what it's worth, I originally bought 10 Bitcoin for a shade under $1000 each in 2016. I sold nine of my coins around Thanksgiving 2017. I sold the last coin in January.
Again, the currencies and cryptocurrency are not stock substitutes, or even really bond substitutes, these are hedges for the cash I have on hand.
Those are essentially hedges against President Trump winning a second term and the dollar falling further and leading us into a financial crisis. If Biden wins the Presidency, that probably marks a bottom in the dollar and I would dump the other currencies, though use that as an opportunity to probably add a Bitcoin (you know, just in case it goes to a bazillion).
Finally, I also am looking at Berkshire Hathaway (BRK.B), which is in the Plug & Play ETF model portfolio because it is essentially a lower risk proxy for the S&P 500. I would suggest that Berkshire is a place to look to place money on any broad market weakness because they have a lot of cash to invest.
Let the two recent purchases of Dominion's (D) natural gas pipelines (remember Kinder Morgan) and now Japanese brokerages, as well as, not investing in American stocks this year be a tell for you about what one of the greatest thinks about the American Fed inflated stock market. He added to his inflation side of the barbell and foriegn before buying American. Very unusual for Buffett.
Recent Webinars
Here's this week's stock and options video. This was an in depth video. I strongly recommend you watch it. As always watch & listen on 1.25 speed.
And week's Q&A. Please remember to post questions in the AMAA chat.
And last week's Friday webinar: